What Is Assam Black Tea?
Assam tea is a black tea made from the leaves of the Camellia sinensis plant. Black teas are more heavily oxidized than other types of tea, like Green Tea or white tea. Oxidation is a chemical process that creates darker leaves and a more intense flavor.
Assam Tea traditionally grown in the northeastern Indian state of Assam, one of the largest tea-producing regions in the world.
Assam is a home to thousands of tea gardens that produce thousands of exquisite loose leaf teas with hundreds of flavors.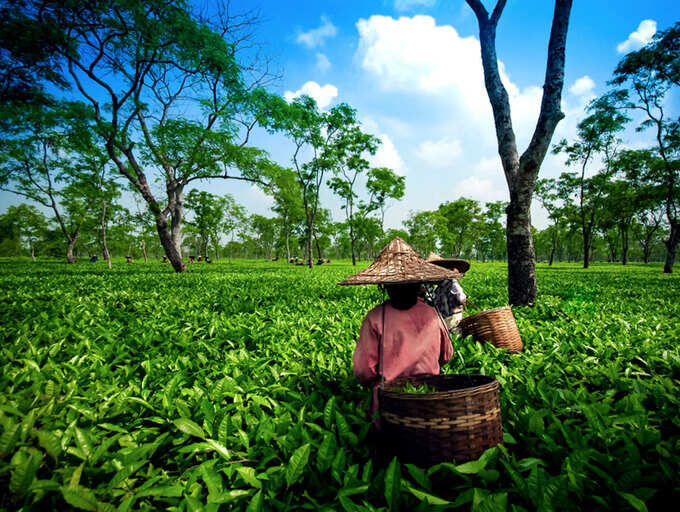 Why Assam Tea is Popular?
Assam tea is popular because of its deep aroma, rich color, and distinctive taste. The tropical climate of Assam contributes to unique malty taste that differentiates it from other teas.
How to Prepare Assam Tea?
Put Assam tea bag or a tea infuser containing about one tablespoon of loose tea leaves in a teacup.
Heat water to 90-95º Celsius. If you don't have a temperature-controlled teapot, bring water to a boil and then let it sit for a minute to reduce the temperature just slightly.
Pour eight ounces of water over the tea bag or tea leaves.
Let tea leaves steep for as long as desired. Some drinkers prefer a lighter tea. I think 2 minutes is okay. Don't steep for too long, because too long may cause bitterness.
Remove the tea bag or strain loose leaves from the cup before drinking it.
Health Benefits of Assam Tea
Chinese have praised tea for its medicinal qualities for thousands of years.
Regulates High Blood Pressure: High blood pressure (BP) can also result in other cardiovascular health complications such as heart failure, heart attack.
It is believed that regular tea consumption has the ability to regulate high BP. Consequently, long-term intake of black tea have a significant difference in BP that can reduce the risk of cardiovascular disease by almost 7-10%.
So Assam black tea consumption can help mitigate High Blood Pressure and reduce the risk of cardiovascular mortality.
2. Helps in Weight Loss: People, who drink regular a cup of Assam black tea get about 80 milligrams of caffeine and studies shows, only 50 milligrams are enough to increase the amount of energy used by the body. It boosts lipolysis (a process of breakdown of stored fats), thereby enhancing metabolism. In the process, it helps one to lose weight.
3. Aids in Digestion: Those people, who suffer from indigestion, if they take a Cup of Assam tea after meals, then it will help in digesting the food quickly. If ginger, Ajwain, Saunf and Green Cardamom is added to this tea, it helps in relieving stomach cramps among women.
4. Improve mental alertness: Similar to other types of black teas, the Assam tea contains caffeine, which is known to stimulate neuronal activity and keep you focused. For example Bus drivers, they drink tea or coffee before the start their bus, because it makes them alert and the same thing truck drivers.
Side Effects of Assam Tea
The caffeine in Assam tea, however, can cause side effects if consumed in large quantities. Avoid adverse effects of caffeine, such as headaches, nervousness, irregular heart beat, heartburn and irritability, by drinking only one to two Cups a day.
Diarrhea and frequent urination also represent quite common side effects of caffeine-based beverages; such as Assam tea.
Buy Assam Tea Online
CTC stands for CRUSH TEAR CURL. It's a method of processing black tea. During the process, the tea leaves are crushed, torn and curled to form small pellets that look like INSTANT COFFEE.
STRONG, FULL BODIED, RICH & DELICIOUS – Sourced from the upper estates of Assam, this STRONG, and malty Assam tea with a dark reddish-brown color has a fresh flavor.
Kombucha complimented the tea for the great taste the Kombucha acquired. The tea is also popular with many as a breakfast tea.
ETHICAL, DIRECT & ORGANIC– Vahdam's innovative supply chain model ensures you get the freshest cup of tea and our farmers get a better price for their produce.
QUALITY PACKAGING | PERFECT FOR GIFTING – Beautiful, high quality & premium packaging. Excellent tea for personal consumption & ideal as tea gifts, holiday gifts, Christmas Gifts, thanksgiving and other occasions. A perfect gift for everyone, including yourself!
If you love to start your day with a strong cup of tea in the morning, then our tea is perfect for you. It is known for its brisk, strong and malty character, making it a perfect tea to wake up to.
This will become your "go to" breakfast tea. Trust us you will fall in love its balance of sweet/malty; like a big glass of Cabernet.
Aroma – Pure Black Tea from the gardens of Assam with a woody and earthy aroma.
Colour – Brisk, malty and bright colour
Taste – Amazingly satisfying, rich and malty black tea.
Bold, direct, sweet with pleasantly astringent aftertaste. A healthier replacement for your morning coffee.
Perfect for masala blends: Takes milk, sugar, cinnamon, cardamom, pepper, and any other spice well. No danger of drowning that delicious tea flavor.
USDA Certified Organic: Healthier for you and the environment thanks to our certified organic practices
Direct from Global Tea Championship winning, family owned Chota Tingrai Tea Estate
Garden Fresh: Packed onsite in resealable bag so you get that garden-fresh taste again and again.
STRONG ASSAM CTC BREAKFAST TEA – Our Loose Leaf CTC Black Tea Makes A Strong, Full Bodied, Cup of Tea. Can Be Served as Straight Black Tea like Turkish or Russian Tea Or As A Milky British Tea. Good Substitute for Morning Coffee – Ok To Be Brewed in a French Press. Best Enjoyed with Milk, It's the Ideal Way to Start Your Day
SINGLE ORIGIN & SMALL BATCH – Each Leaf of Our Assam Black Teas Entails a Perfected 5-step Process of Plucking, Withering, Rolling, Oxidation, and Drying in Small Individual Batches. To Top It Off Our Leaves Undergo A Rigorous Process Of Sorting And Testing to Provide You The Purest And Healthiest Leaf which is Made in Assam. A Traditional CTC Indian Tea That Makes a Strong, Brisk Cup. Best Enjoyed with Milk and Sugar
100% FRESH; 100% ORGANIC; 100% DIRECT TRADE; 100%
REUSABLE AND WASHABLE POUCH DESIGN – Our Opaque Stand Up Tea Pouches Are Fully Reusable & Washable. We Love The Planet So We Design Everything With Reusability in Mind.
STRONG & MALTY ASSAM TEA – This Assam black tea contains carefully picked, unblended, pure Assam tea leaves. This summer tea has exquisite flavors, and is clean & easy on the palate. The loose tea can be made as a latte with a dash of milk and sugar. It also makes for an excellent Kombucha tea. Vadham
SPECIFICATIONS – This Indian chai tea is FTGFOP1 tea grade of second flush (summer harvest) and contains Moderate caffeine. It is a single estate tea black from Assam in India. The pack contains loose tea leaves weighing 3.53 oz, and makes upto 50 cups of tea.
ETHICAL, DIRECT & FAIR-TRADE- TRULY – Our innovative supply chain model ensures you get the freshest cup of tea and our farmers get a better price for their produce. 1% of our ​​revenue is redirected towards the education of our tea growers' children. Our farmer​s, like any other parent, wish for their progeny to have a better life than them. We at Vahdam Teas with our social initiative, TEAch Me, simply wish to honor this aspiration.
ASSAM TEA – Frontier Co-op Organic Assam tea (Camellia sinensis) is a Tippy Golden Flowery Orange Pekoe grade (TGFOP) black tea originating from India and named after the Assam region. It is generally enjoyed as a morning tea or breakfast tea due to its bright color and brisk, malty characteristics.
A VERSATILE INGREDIENT – Assam leaves are rich, astringent, robust, and highly aromatic. Assam also combines well with milk and sugar for flavorful blends! Mix some with spices or ginger in water, or add some sugar and mix them into iced tea for a refreshingly cool drink.
FLAVORFUL AND ROBUST – Frontier Co-op Organic Assam tea leaves are Tippy Golden Flowery Orange Pekoe grade (TGFOP), which makes them the perfect choice for formal, English-style teas. Assam is known for its brisk, malty flavor, as well as a bright color that complements traditional sweets, cakes, and sandwiches for any occasion.
ORGANIC FROM INDIA – Frontier Co-op Organic Assam tea leaves are hand-picked in India and sun-dried to produce rich, robust, and highly aromatic results. There are no artificial additives or chemicals used at any stage of the growing or production process. These leaves are 100% organic certified, Kosher certified, non-irradiated, and Fair Trade Certified.
Brews tea at preferred strength without a need to remove the infuser
Heat resistant borosilicate glass, stainless steel lid, strainer and plunger
Patented system stops brewing when tea is plunged so tea is not bitter
34 oz. capacity
All parts dishwasher safe
100% Assam, like most traditional Irish blends, this is a good way to start your morning
This tea is usually drunk with milk and sugar, so the flavors harmonize well with them
There are subtle notes of roast malt in this smooth breakfast blend
Full-bodied tea that has some of the malty aromas found in other Assam's
Steep for 4-5 minutes in boiling water before drinking
Our Assam "Black beauty" #8 is organically grown and produced in beautiful Taiwan. Assam Black Beauty is a distinct and highly appealing tea with a smooth richness of taste that is simply unsurpassed.
With natural hints of cream, honey and bourbon! This tea is deliciously malty with notes of raisin and stone fruit.
This is a tea that is very smooth, rich in character and deliciously deep! You will notice that the flavor is not nearly as brisk as a traditional Indian Assam, but almost has dark oolong characteristics.
The first Taiwanese Assam cultivar was introduced and planted around the hills of Sun Moon Lake in Nantou County. This lake's climate, environment, and terroir was deemed the most similar to the Assam tea gardens of India.
PREMIUM QUALITY TEA LEAVES: We use premium quality full leaf tea leaves so that each cup you brew has a pleasing aroma, deep full-bodied taste and steeps consistently. This is great because you'll always have a deliciously smooth and well balanced cup of English Breakfast Tea. Our breakfast tea blend is high in caffeine but doesn't give you the jitters or crash like coffee or sugary drinks.
PERFECT 4 TEA BLEND: At Golden Moon, we use a unique balance of 3 Indian tea leaves: malty Assam, floral Darjeeling and a South Indian Nilgiri. Plus, we add a highly sought after smooth yet smoky Chinese Keemun tea. This delicious premium blend creates a unique flavor profile that makes a rich and delicious cuppa perfect for hot tea or iced tea.
181 SERVINGS PER BAG: We know you need a steaming hot cup of delicious English Breakfast tea to start your day. Save money when you buy in bulk…each bag has 181 perfect portion servings of tea so you can enjoy an always fresh cup every day for 6 full months. Each serving makes a rich full-bodied cup of tea, you can always adjust for your particular tastes preferences.
100% USDA CERTIFIED ORGANIC: Our royally bold English Breakfast teas are USDA organic which means they're free from pesticides, toxins and chemical additives. We independently test all our teas to ensure they pass our rigorous quality standards. Each tea loose leaf bag is also a gluten free, vegan, and an environmentally friendly product. Enjoy a safe and healthy cup of tea just as nature intended.